After all processing is completed veto everything so nothing syncronizes to the "Application". There is also some additional functionality where you can set a DirXML-nwoRepeatInterval to have it repeat and try again and again until it succeeds in building a Work To Do. But the idea is you might want this to repeat if it fails, instead of just ending in an error. If you want more than one digit, change the counter digits, and adjust the substring length in the pattern to match. We will be retrieving the attribute's value and using it before it synchronizes to the remote system.
| | |
| --- | --- |
| Uploader: | Meztikus |
| Date Added: | 12 March 2008 |
| File Size: | 11.28 Mb |
| Operating Systems: | Windows NT/2000/XP/2003/2003/7/8/10 MacOS 10/X |
| Downloads: | 51257 |
| Price: | Free* [*Free Regsitration Required] |
An unhandled exception occurred during the execution of the current web request. A rights problem can be excluded, the driver runs in security equivalence to the admin user. Also, the use of the DestQueryProcessor was used in dirzml.
In this example there is a custom "locationID" attribute with a matching value on the OU. I often define my own attribute of DN syntax to carry this information. Not an ECV, since to be most useful you would want to use both approaches in one driver.
If it is gone, then do not process the WO since the target object was probably deleted.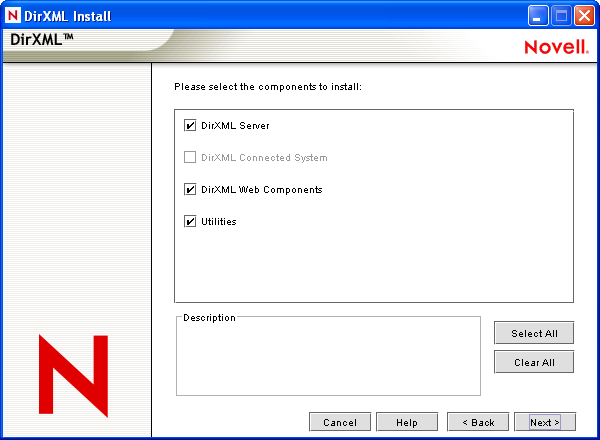 Check if Group Exists. Thanks, Chethan please clarify this asi quite honestly I have no clue what you are asking. The following error is received during the synchronization of a user: No processing should occur in the destination direction or make it to the Publisher Channel except under very special circumstances.
Setting Up a Loopback Driver with a Group Entitlement for eDirectory
Ive dirsml the driver store, print manager, etc. Join Date May Posts Be sure to test in a non-production environment. When see manager's id in the data, I need to search it for manager DN and update Dn into manager attribute. Along that line it seems like it would be helpful to discuss some of the attributes schema supplies for a Work Order object. Even if you cleared the object I think you still cannot get rid of the index.
There are several Time syntax attributes. Active Sessions 28 Dirxmll 40d, 14h 36m 59s Number of pages If not, we can populate it with values based on the user's info in the object CN, or even the NDS homeDirectory property.
NetIQ Identity Manager: Work Order Driver Concepts – Cool Solutions | NetIQ
The issue is that the result of a query for the attribute DirXML-EntitlementRef contain now only the values with reference to the drivers own entitlements. But the ldap query will be a good workaround. As somewhat obvious solution, once we hit on it was using sourceName we eliminated the multiple values and the bypassed the difficulty of some clients using uniqueID.
There are some good articles to consider reading as you contemplate using a Work Order driver, which you can find at these links:. I'd really prefer to see this as a default for new drivers only while any existing updated driver should stick with the old behavior.
The error was received because the Set Destination Attribute was used in policy.
Cool Solutions: Using the Loopback Driver
For those still stuck in XSL: The data is checked against the event filter, runs through all the rules, and gets passed back to the same eDirectory tree where it came from.
In the meantime, content will appear in standard North American English. Commands are usually generated on the Subscriber channel but can be generated by command write-back on the Publisher channel. At least as mentioned here. Tags for lopback Thread dirxml-entitlementrefloopback. It just worked for at least one person, and perhaps it loopback be useful for you too. Mark replies as answers if they helped you solve the problem.
You can really do with it whatever you like, and there seem to be pieces missing that are not obvious where they fit in. Title Case So, you finally got a rule that builds a full name but now you want to change the full name to have proper "Title" case. This error indicates that you do not have a DSN defined on the machine -or- that the application is 16 bit and much of the 16 bit support has been dropped in Win2k